GX Assist® Soft Gel

dōTERRA®'s GX Assist® GX Assist® is a combination of essential oils and caprylic acid to help support a healthy digestive tract by creating an unfriendly environment for potential threats that can disrupt digestive immunities and cause digestive upset.* GX Assist is formulated with CPTG® Oregano, Melaleuca, Lemon, Lemongrass, Peppermint, and Thyme. This proprietary blend helps purify and cleanse the digestive system.*




PB Assist®+

PB Assist®+ is a proprietary formula of pre-biotic fiber and six strains of probiotic microorganisms in a unique double-layer vegetable capsule. It delivers 6 billion CFUs of active probiotic cultures and soluble pre-biotic FOS (fructo-oligosaccharides) that encourage friendly bacterial growth.* The time-release, double-capsule delivery system is designed to help protect the sensitive probiotic cultures from stomach acid. PB Assist+ offers a unique, safe, and effective way to deliver the well recognized digestive and immune system support benefits of probiotics.*




TerraZyme®

dōTERRA TerraZyme® Digestive Enzyme Complex is a proprietary blend of active whole food enzymes and supporting cofactors that are often deficient in cooked, processed, and preservative-laden foods. The powerful combination of digestive enzymes found in dōTERRA TerraZyme supports the body's constant production of enzymes critical for healthy biochemical functions, including healthy digestion of food nutrients and cellular metabolism of nutrients to energy.* dōTERRA TerraZyme includes a variety of whole-food enzymes that help with the digestion of proteins, fats, complex carbohydrates, sugars, and fiber.



xEO MEGA®

dōTERRA xEO Mega® Essential Oil Omega Complex is a unique formula of CPTG Certified Pure Therapeutic Grade® essential oils and a proprietary blend of marine and land-sourced omega fatty acids. Omega fatty acids help support joint, cardiovascular, and brain health, and support healthy immune function.* A daily dose of xEO Mega provides 950 milligrams of marine lipids (providing 300 mg of EPA, 300 mg of DHA, and 55 mg of other omega 3s), and a blend of 210 mg of plant-sourced fatty acids. xEO Mega also includes 800 IU of natural vitamin D, 20 IU of natural vitamin E, and 1 mg of pure astaxanthin, a powerful antioxidant carotenoid harvested from microalgae.* xEO Mega is encapsulated in a vegetarian-friendly softgel. Not 100% Vegan. xEO Mega contains the best quality omega-3 oils harvested from anchovy, sardine, and mackerel.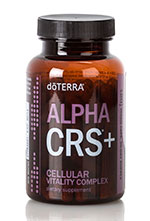 Alpha CRS®+

dōTERRA Alpha CRS®+ Cellular Vitality Complex is a proprietary formula combining potent levels of natural botanical extracts that support healthy cell function with important metabolic factors of cellular energy.* Alpha CRS+ is formulated to be used daily with xEO Mega® or vEO Mega® and Microplex MVp™ as a comprehensive dietary supplement foundation for a lifetime of vitality and wellness.*




Microplex VMz®

dōTERRA Microplex VMz® Food Nutrient Complex is a food nutrient formula of bioavailable vitamins and minerals that are deficient in our modern diets. The formula includes a balanced blend of essential antioxidant vitamins A, C, and E, and an energy complex of B vitamins.* Also contained in the formula are calcium, magnesium, and zinc for optimal bone and metabolic health.* Microplex VMz contains the dōTERRA tummy tamer botanical blend of Peppermint, Ginger, and Caraway to calm the stomach for those who may have experienced stomach upset with other vitamin and mineral products.* This formula is encapsulated using sodium lauryl sulfate-free vegetable capsules, and does not contain wheat or dairy products.


ALL TOGETHER IN A PACK



• dōTERRA Lifelong Vitality Pack
• PB Assist®+
• GX Assist®
• Zendocrine® Softgels
• DigestZen TerraZyme®
• Lemon (15 mL)
• Zendocrine® Complex
• DDR Prime® Softgels




TerraGreens®

dōTERRA TerraGreens® is a proprietary blend of whole food fruits and vegetables combined with superfruits and CPTG Certified Pure Therapeutic Grade® essential oils. This powdered mix packs a daily boost of fruits and vegetables into a mix that can be stirred into 8 oz. of liquid for easy and convenient nutritional supplementation.*


---
An Integrative Nutrition and Recovery Coach is a guide and mentor who empowers you and provides ongoing support and guidance as you set goals and make sustainable changes that improve your health and happiness. As your Health Coach, I will listen carefully and we'll navigate the world of contradictory health advice together to explore what truly works for you.